Our Annual Report 2020-21
Our annual report tells the story of our work over a year like no other.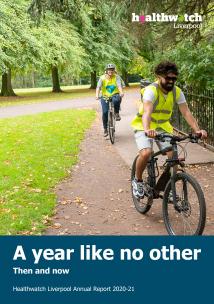 Read about how we've adapted our service during the Covid-19 pandemic over the past 12 months.
We have heard from members of the public in new ways and continued to publish reports which have an impact in how health and care services are delivered in Liverpool.
Our enquiries helpline and directory has played an important role in helping people to get the up-to-date information they need during the pandemic.
Our Annual Report highlights some of the important work we've done this year and how we're planning to make a big impact over the coming year.