Homeless Services in Liverpool Report 2020
This report explores the provision of Homelessness services in Liverpool and how they are viewed by the people who use them.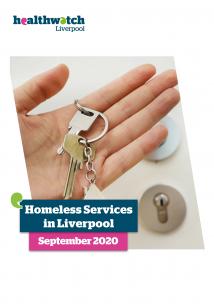 Between March 2019 and September 2020 Healthwatch Liverpool worked on a project to find out what services were available in Liverpool for people experiencing homelessness, and what people using these services thought about them. We spoke to people who were homeless about hostels and housing, support, health services, addiction services and social care. We also spoke to staff working in these services, to find out what they thought worked well, and where improvements could be made. Here is summary of our key findings:
 There are many services in Liverpool supporting people experiencing homelessness – but not everybody knew about these services, or services about each other.
Services told us they had seen an increase in demand, and that the people they see now had more complex needs compared to 10 years ago
People with lived experience of homelessness told us they were usually not involved in planning homeless strategies and services
People told us continuity of support is important, including when moving in to new or move-on accommodation
We received more positive feedback about health services that were specifically set up for homeless people
There were more negative comments about mainstream health services, especially about staff attitudes and feeling judged
We learned that there are no easily accessible mental health services for homeless people
There are no services for people with a dual diagnosis of mental health issues and who are using (street) drugs and/or alcohol
Appropriate social care was not always available; some hostels told us it was difficult to find care providers for residents with a care package. Appropriate end-of-life support was also harder to find.
People told us that the night shelter at Labre House needed to be improved. Due to the Covid-19 pandemic Labre House has now closed, and there are no plans to re-open the shelter in the same format
Much of this report was written before the pandemic, and in light of the changes some of the conclusions and recommendations may now have been overtaken by events. Others, like the lack of services for people with a dual diagnosis, still stand as they have for many years.
Here at Healthwatch Liverpool we intend to continue to monitor the situation. Any feedback from people experiencing homelessness and staff working in homeless services will always be very welcome to support us in keeping homelessness on the agenda.