Our Annual Report 2018/19
Find out what we got up to in 2018-19 and read about our plans for the future.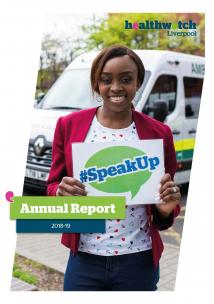 Summary
During 2018-19:
In total across our information service, events, project work, surveys and visits to services, we engaged with 6885 people.
3770 people including students, accessed Healthwatch advice and information or
contacted us with questions about local support.
We published 34 reports including Enter and View reports, findings from Hospital Trust Listening Events and bigger projects like our GP Access work.
We visited 69 services and community events where we spoke to 2750 people to
understand experiences of care.
We have 12 volunteers helping to carry out our work. In total, they gave 107 hours to
support our work.
360,930 people engaged with us through our website, directory and social media.