Alder Hey Listening Event Report - November 2021
Find out what patients, parents and visitors told us when we visited Alder Hey Children's Hospital in November 2021.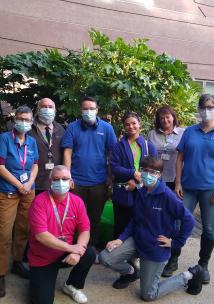 Summary
On November 2 and November 4 2021, we held a Listening Event at Alder Hey Children's Hospital. We visited the hospital's main site, on East Prescot Road, and the Dewi Jones Unit in Waterloo, Alder Hey's specialist inpatient mental health unit. The aim of the event was to speak to as many patients and visitors as possible to gather feedback about the hospital. We wanted to find out what people thought was good and what needed improving. 
We heard from 75 people in total. We spoke to 73 people in person, and 2 people completed our Listening Event questionnaire online.
Most people we spoke to gave positive feedback about the hospital. 85% of people we spoke to gave Alder Hey a 4 or 5 star rating overall.
84% of people we spoke to were under 18.
We received positive feedback about the caring and friendly approach of staff, good communication from staff, the clean and welcoming environment of the hospital buildings, and the hospital rooms.
Some parents raised concerns about communication from the hospital and different hospital staff.
People also told us things they would like to see improved about the hospital. This included more outdoor play facilities and better entertainment for older children in the hospital, better facilities on the ward for parents (including fold out beds), and a better selection of food for visitors. People also told us they would like more charging points for phones and devices available in A&E.
We gave the hospital an anonymised version of all the feedback that we captured during our visit. The hospital can use this feedback in conjunction with the other ways in which they capture patient experiences to see what is working well and any areas for improvement. We also made some specific recommendations for areas where the hospital can improve.
We look forward to continuing our work with Alder Hey Children's Hospital over the next year and we will carry out a further Listening Event in 2022.
Recommendations
Based on the feedback people gave us, we have made the following recommendations for Alder Hey Children's Hospital:
Portable charging points should be made available for patients/families who are rushed into Alder Hey in an emergency;
Food should be clearly labelled, including how it is cooked in the cafes, to ensure that it is suitable for a range of dietary needs;
Children and their carers should be offered the choice of virtual or face to face appointments where possible, even after restrictions are lifted;
Food that is able to be pre-ordered picked up by parents who do not wish to leave their child on the wards;
More activities for older children/young people;
More covid safe activities in waiting areas;
Access to outside space is important to children and young people, there should be a range of both structured activities and play equipment outdoors as well as indoors.